¿Sabías que el 17 DE marzo se celebra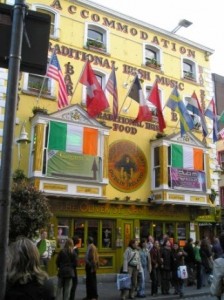 Irish pub. Photo taken by LinguaSuite
¿Sabías que no hay serpientes ni culebras en Irlanda?
Algunas personas creen que San Patricio, el Santo Patrón de Irlanda echó a todas las serpientes.
Otras personas dicen que nunca hubo serpientes en Irlanda debido a que el agua alrededor de la isla es demasiado fría para que las serpientes pudieran llegar.
En cualquier caso, ¡FELIZ DEL DÍA DE SAN PATRICIO! ¡¡Ponte una prenda de color verde el 17 de marzo!!
NOW IN ENGLISH. PAY ATTENTION TO THE ENGLISH VOCABULARY
¡PRESTA ATENCIÓN AL VOCABULARIO EN INGLÉS!
Did you know that there are no snakes in Ireland?
Some people believe that Saint Patrick, the patron saint of Irelandsent out all the snakes.
Other people say that there never were any snakes in Ireland because the water around the island is too cold for snakes to be able to get there.
In any case, HAPPY SAINT PATRICK'S DAY. Wear something green on the 17th of March!
MORE INTERESTING HOLIDAYS HERE: