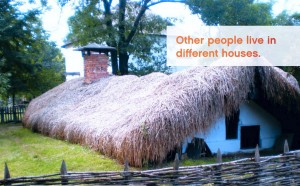 Usa esta frase para preparar el First in English
OTHER PEOPLE LIVE IN DIFFERENT HOUSES.
Uno de los errores que hacen los alumnos en el First Certificate, es con la palabra PEOPLE.
Recuérdate que la palabra PEOPLE es plural, el plural de PERSON.
Así que hay que utilizar verbos en plural, al igual que con cualquier otro nombre plural.
Es un hábito muy difícil de cambiar para mucha gente que habla español, porque la palabra GENTE es singular.
People LIVE in houses.
People GO to work.
People WANT to have a good life.
¿Sabías que es muy difícil para los que hablamos inglés aprender a utilizar los verbos correctamente
con GENTE? ¡Es cierto! Tendemos a decir LA GENTE SON … ¿Suena horrible? Los errores con PEOPLE suenan fatal en inglés, también.
One of the most common mistakes students make in the written and oral First Certificate Exams is with the noun PEOPLE.
Remember that the word PEOPLE is plural, the plural of PERSON.
So you have to use plural verbs, just like with any other plural noun.
It's a very hard habit to break for many Spanish speakers, because the word GENTE is singular.
Did you know that it is very difficult for English speakers to learn to use singular verbs with GENTE? It's true! We tend to say LA GENTE SON… Does that sound AWFUL to you? Well. mistakes with PEOPLE sounds awful in English, too.
We hope this hint will help you prepare the First Cert Exam!