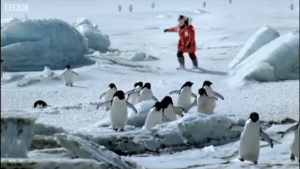 Colony of penguins. Photo from the BBC
HOLIDAY? APRIL FOOLS DAY
El día 1 de abril es nuestro día para hacer bromas, ¡nuestro 28 de diciembre! Te recomendamos este documental de la BBC sobre una colonia de pingüinos ¡que se van volando para pasar el invierno fuera! ¿A dónde van? ¡Míralo para saberlo!
¡Disfruta!
Los vídeos para aprender inglés de LinguaSuite
The 1st of April is our

holiday

to fool people! Here is a BBC documentary showing a colony of flying penguins! Where are they going? Watch it and find out!
We hope you enjoy it! We're sending it to you to celebrate April Fool's Day.
More interesting information about holidays here: