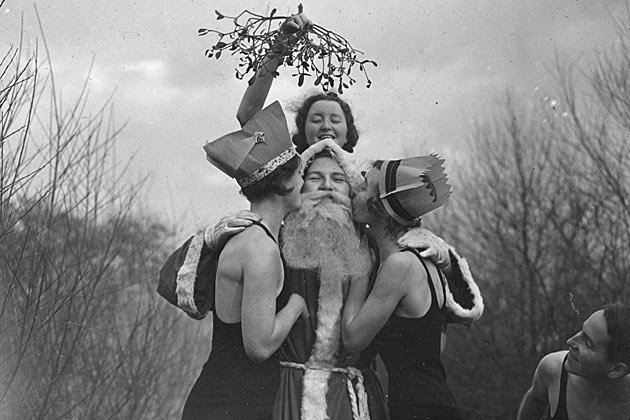 Te invitamos a pasarlo bien y aprender vocabulario en inglés con nuestro Quiz de Navidad. Son 10 preguntas en total. ¿Sabrás las respuestas? ¡Presta atención a las preguntas en inglés para aprender el vocabulario jugando y sin darte cuenta!
QUIZ DE NAVIDAD
¿Cuantos renos tiene el Papa Noel? 
How many reindeer does Santa Claus have?
En qué océano se encuentra la Isla de Navidad?
Which ocean is Christmas Island on?
¿Qué se hace por debajo del muérdago en Navidad?
What do people do under the mistletoe at Christmas?
¿En qué temporada es Navidad en Australia ?
In which season is Christmas in Australia?
¿De qué está hecha la nariz de Frosty?
What is Frosty the Snowman's nose made of? 
Qué es una Navidad blanca?
What is a white Christmas?
Cómo se llaman las hojas de un árbol de navidad?
What do you call the leaves of a Christmas tree?
Nombra 3 países cerca del Polo Norte (dentro del Círculo Árctico)
Name 3 countries near the North Pole (in the Arctic Circle)
Qué se comprueba 2 veces?
What is checked twice?
Qué clase de árbol es un árbol de Navidad?
What kind of tree is a Christmas tree?
Las respuestas a nuestro Quiz de Navidad
9 reindeer
El océano Índico.
The Indian Ocean
Nos besamos.
We kiss each other
En verano, ¡claro!
In summer, of course!
¡¡Es una zahanoria!!
It's a carrot!!
Cuando hay nieve.
When there is snow
Son agujas
They are needles.
Rusia, Noruega, Canadá, USA (¡Alaska!), Groenlandia, Dinamarca, Islandia…
Russia, Norway, Canada, USA, Greenland, Denmark, Iceland…
La lista de Santa Claus de los niños traviesos y formales.
Santa´s list of who is naughty and nice.
Son pinos, abetos, píceas; todos árboles de hoja perenne
They are pine, fir, spruce; all evergreen trees
¿Ya has aprendido el Nuevo vocabulario para hablar de la navidad?
Vocabulario en inglés para hablar de la navidad
Reindeer
Christmas tree
Mistletoe
White Christmas
Snowman
Arctic Circle
North Pole
Greenland,
Denmark,
Iceland
Indian Ocean
Season
Summer
Leaves
Carrot
Kiss each other
Needles
¿Qué mejor regalo para celebrar que el regalo del conocimiento? Regala un curso de LinguaSuite para aprender inglés con los mejoras cursos de inglés online.